09.14.09
Sunday was beautiful, temps started out in the 50's with blue skys and not even the slightest breeze. We left Cut Bank at 8:30 for East Glacier. Glacier Lodge was awesome, built in 1913 by the Burlington Northern, is very massive. We pulled the cars up in front of the Hotel for pictures, people came out to look and chat it was quite an experience. The lobby is massive, with huge standing logs 3 floors high, sky lights in the ceiling let in natural lights, it's beautiful. Outside on the veranda is a beautiful picturesque mountain scene. The grounds are immaculate, with flower gardens, planters and window boxes, very well landscaped.  Driving through the park is breath taking, at Logan Pass they are working on the road, I'm glad we went through today as M-F delays are 4 hours. We are staying in Whitefish tonight. Jim and I met my cousin Pam and her husband Tom for dinner and then went back to their house in Kalispell to visit before heading back to our room. We put on roughly 140 miles today.
Entering Glacier Park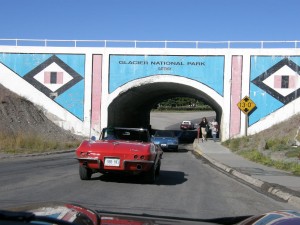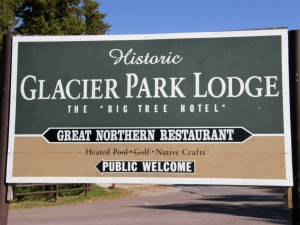 We drove right up to the front door.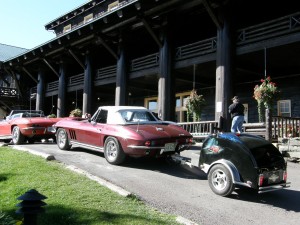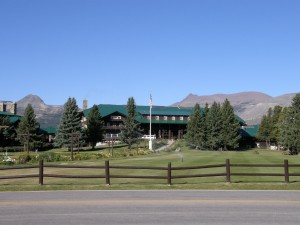 The Lodge was built
in 1913.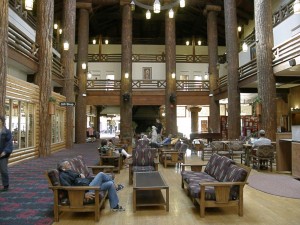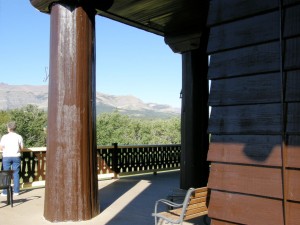 View from the veranda.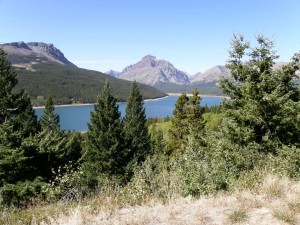 Breathtaking scenery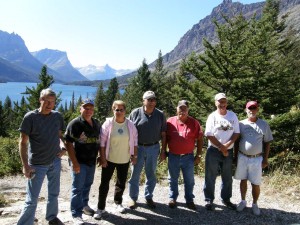 Doug, Jim, me, Roy, Jerry, Paul and Tom
A visit with my
cousin Pam from
Kalispell.